---
Readers like you help support The CODE Warrior. When you make a purchase using links on our site, we may earn an affiliate commission. You can learn more about our website's Affiliate Advertising here.
---
---
Don't Miss: FREE Webinar
Momentum Summit: Unleash the Power of Your Marketing Momentum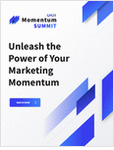 Technology has both empowered and challenged marketers to deliver more: More data, more engagement, more channels, and more results. While our overall impact has grown, our resources and budgets have not, making it harder than ever to build and maintain momentum.
Watch Momentum Summit, a special 4-hour virtual summit where the biggest names in B2B martech come together to share the plays behind their biggest wins, top-secret tips, and most pivotal a-ha moments to help you build an unstoppable marketing machine.
Experience panels, hear new and unique perspectives, and get insights on:
The data that matters and how to make it actionable
The plays behind powerful personalization
How to drive great engagement and deliver sales-ready prospects
How to align your key revenue teams to generate repeatable, predictable results
Unleash the power of your marketing momentum. Watch Momentum Summit at a convenient time for you!
---
FREE WHITE PAPER: Extracting the True Value of Data with Unified Observability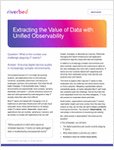 Most IT teams manage a mix of traditional on-premises infrastructure with private and public cloud, where performance is not always under IT's direct control. Meanwhile, cloud-native applications that are modular, ephemeral, transient, and serverless co-mingle with applications that are self-hosted, managed, or delivered as a service. Effectively managing this hybrid infrastructure and application architecture requires unique skill sets and expertise.
Quite frankly, organizations (and particularly IT teams) need better insight and more context from the data they receive so they can do their job well in today's constantly evolving environment. The solution? Observability – the next phase in the evolution of monitoring and visibility. But, what exactly is observability? And what are the benefits? In this FREE whitepaper, you will learn: The digital experience pain points currently plaguing IT teams. What observability is and why do you need it. Riverbed's vision for Unified Observability. Get It Now
Upcoming Tech Events
DesignCon (January 30 – February 2) Santa Clara, California
DesignCon is the premier high-speed communications and system design conference and exposition, offering industry-critical engineering education in the heart of electronics innovation — Silicon Valley. Learn more
MWC Barcelona 2023 (February 27- March 2) Barcelona, Spain
MWC Barcelona is the world's largest and most influential event for the connectivity industry. Learn more
Game Developers Conference 2023 (March 20-24) San Francisco
The Game Developers Conference (GDC) brings the game development community together to exchange ideas, solve problems, and shape the future of the industry across five days of education, inspiration, and networking. Learn more
See All Upcoming Tech Events