The CODE Warrior is updated daily with fresh IT jobs and more. Check out who's hiring in the technology world.
---
Amazon Web Services (AWS) is the world's most comprehensive and broadly adopted cloud platform, offering over 200 fully featured services from data centers globally. Amazon is offering teams more flexibility on where to work.
---
Microsoft is the largest vendor of computer software in the world. It is also a leading provider of cloud computing services, video games, computer and gaming hardware, search, and other online services.
---
Automattic is the company behind WordPress.com and WordPress.com VIP, the cloud version of WordPress. Automattic hosts and supports all WordPress.com sites ensuring that there is continuous and strategic development of the software available to its users.
---
---
Salesforce is a popular CRM tool for support, sales, and marketing teams worldwide. Salesforce services allow businesses to use cloud technology to better connect with partners, customers, and potential customers.
---
Adobe is a worldwide global leader in digital media and digital marketing solutions. Adobe's creative, marketing, and document solutions empower everyone – from emerging artists to global brands – to bring digital creations to life and deliver immersive, compelling experiences to the right person at the right moment for the best results.
---
TikTok is a popular social media app that allows users to create, watch, and share 15-second videos shot on mobile devices or webcams.
---
Upstack provides an all-in-one remote talent solution. The platform helps your company easily hire, retain and motivate remote talent and build products that your users love. They're currently looking for Python developer, Shopify developer, PHP developer, WordPress developer, Ruby on Rails engineers, DevOps engineers, Data engineers, and more. Visit their website for more about their latest job offerings.
---
Other Companies looking to hire:
Asana: Build the future of teamwork
Chain: Powering innovative businesses
AtoB: Rebuild global transportation payments
CoinDesk: DeFi Markets Reporter – Asia
Bangor Daily News: Belfast Reporter, ME
AP: Race & Voting Reporter, Remote US
---
2022 IT Salary Survey (Free Research Report)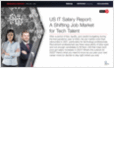 2021 was a year of transition. After all, the pandemic illuminated the importance of technology. Are you wondering what the outlook is for 2022?
Our IT Salary Survey will give you what you need to know as you plan your next career move (or decide to stay right where you are).
Topics covered:
Median Salary – find out if it went up, down, or stayed the same.
Gender Gap – discover if IT has started to fill the gap or has it grown.
Raises – learn what % of IT Pros got a raise
And much more!