The Future of Analytics, Measurement, and Attribution is Closer Than You Think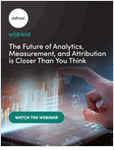 The digital marketing world is changing, fast, and if you're not taking immediate steps today in regard to analytics and measurement, you're going to quickly fall behind your competitors.
Watch this on-demand webinar for expert analysis and strategies to help you prepare for GA4 as well as insight into trends in measurement, tracking, and media-mix modeling for digital marketing conversions.
In this on-demand webinar, you will learn more about:
Google's transition from UA to GA4 and the critical differences in how these technologies will measure your website traffic and other improvements.
The "cookie-less future" and how ad platforms are working towards strengthening attribution in a world without cookies tracking performance.
How media-mix modeling is evolving to account for a cookieless and privacy-first ecosystem.
---
Work Smarter, Faster with AEM + Workfront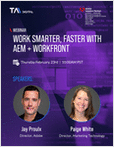 Siloed, manual workflows slow production and cause frustration among team members. If your tools can't work with one another, that costs you time and money and keeps you from optimizing your customer experience through enhancements like personalization.
TA Digital's Content Factory, powered by Adobe, solves those issues by streamlining processes and simplifying the creation and management of assets and content without relying on IT.
Join this free webinar to hear TA Digital's specialists explain how our proprietary solution facilitates integration between different Adobe tools for complete content delivery and enables:
Seamless planning, production, and delivery of digital assets
Automation of business flows for faster time-to-market
Precise customer reach across all channels
Improved overall digital performance and real-time updates
---
The Effects of Loneliness in the Workforce: Why Building Connection Matters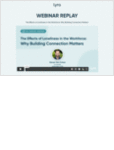 Learn stories, strategies, and statistics to build a more connectable workforce.
September is National Suicide Prevention Month and bringing mental health into the forefront of workplace conversation is essential. A Lyra Health survey conducted early in the pandemic found that 11 percent of American workers reported thoughts of self-harm or suicide. One of the big contributors to someone's mental health is feeling isolated and lonely—making connection more important than ever, especially in the workplace. This conversation will provide simple and effective solutions on how to support your employees' mental health through strengthening connections at work.
Join Steve Van Cohen, from LessLonely.com, to learn:
Stories, strategies, and statistics to offer solutions on what you can do to build a connectable workforce
What loneliness means in the workplace, the causes, and its impact on businesses
How to identify lonely workers in need of belonging and how to provide it
---
More Insights
Automating the Edge Watch Now
What's Trending in B2B Marketing: How Data & Content Power a Personal Touch Watch Now
Moving from Persona to Person: How You Can Maximize Your ABM Campaigns with Buyer-Level Insights Watch Now
Find, reach, and convert your ideal customers Watch Now
ESG and Your Organization: How Forward-Thinking Companies are Embracing New Opportunities Watch Now
---
---
Got a Windows PC? You can now enjoy the modern design, improved productivity, and enhanced security & privacy of the all-new 1Password 8. Learn more
1Password, the secure enterprise password manager
More than 100,000 businesses trust 1Password to secure their business and protect their data.
---