Momentum Summit: Unleash the Power of Your Marketing Momentum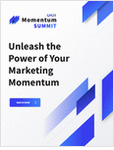 Technology has both empowered and challenged marketers to deliver more: More data, more engagement, more channels, and more results. While our overall impact has grown, our resources and budgets have not, making it harder than ever to build and maintain momentum.
Watch Momentum Summit, a special 4-hour virtual summit where the biggest names in B2B martech came together to share the plays behind their biggest wins, top-secret tips, and most pivotal a-ha moments to help you build an unstoppable marketing machine.
Experience panels, hear new and unique perspectives, and get insights on:
The data that matters and how to make it actionable
The plays behind powerful personalization
How to drive great engagement and deliver sales-ready prospects
How to align your key revenue teams to generate repeatable, predictable results
Unleash the power of your marketing momentum. Watch Momentum Summit at a convenient time for you!
---
Webinar: How Pinterest Improved Brand & Advertiser Trust With B2B Research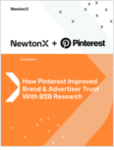 Hear how the Pinterest UX team reoriented their research processes in order to make business decisions with confidence — and positively impact their bottom line.
"Dirty" data can topple multi-million dollar business decisions, yet even though 98% of professionals believe that high-quality data is strategically essential, only 51% actually consider their data to be "clean" enough to leverage (NewtonX Knowledge Graph, 2021). Clean data is key, but maintaining outdated research processes can be equally as harmful and in many cases, directly result in "dirty" data.
Join Sascha Eder, CEO of NewtonX, and Kitty Z Xu, Quantitative User Experience Lead at Pinterest, for a discussion about how Pinterest combated data hazards and found success with B2B research by thinking beyond the traditional panel. Throughout the webinar, you'll uncover the actionable steps and strategies to solve some of your most prominent B2B research problems.
3 Big Takeaways:
Research Techniques: How to apply the innovative B2B research methodology Pinterest used to build advertiser trust
Audience Analysis: Define which target audiences are essential to quoting and delivering a successful project
Best Practices: Practical resources and strategies to solve some of your biggest B2B research challenges
Access the webinar and key takeaways now
---
How Microsoft and NewtonX Source Critical Business Insights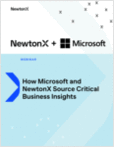 Deep into the experience economy, enterprise leaders face critical pressure to source the right insights to delight customers and lead their organizations forward. But sourcing quality insights is no easy feat. The missing link? Finding the right strategic partner and co-creating a research approach that's custom-built for complex, evolving needs.
Learn key insights on building game-changing products through custom B2B research. Leon Mishkis, COO at NewtonX, Tracy Wang, Ph.D., Senior Research Program Manager, and Zoe Dowling, Ph.D., Principal Research Program Manager at Microsoft, share takeaways on developing successful products and research roadmaps through strategic client-vendor partnerships. Access the webinar and key takeaways now.
---
More Insights
What's Trending in B2B Marketing: How Data & Content Power a Personal Touch Watch Now
Increase IT's Value in Economic Uncertainty Watch Now
Navigating the New Normal: How Businesses are Making Hybrid Work, Work Watch Now
How IT Teams Create Company-Wide Value by Enabling a Digital HQ Watch Now
---
Got a Windows PC? You can now enjoy the modern design, improved productivity, and enhanced security & privacy of the all-new 1Password 8. Learn more
1Password, the secure enterprise password manager
More than 100,000 businesses trust 1Password to secure their business and protect their data.
---