Software and tools for your startup business. Explore these companies and learn how they can help you run your business.
Practice Ignition
Smarter proposal management software. Practice Ignition is the world's first client engagement and commerce platform to streamline how professional services businesses engage clients and get paid. Learn more about Practice Ignition
Keap
Do work that matters. Automate the rest. Keap combines CRM, marketing automation, sales automation, payments, and much more in a single, integrated platform, so you can convert more clients and grow your business. Keap helps small businesses across various industries streamline sales and manage customer experiences. Learn more about Keap
Pagecloud
Create your website and online store with an intuitive editor, no coding is required. Pagecloud makes it easy for you to create, host, and manage your website and online store using one user-friendly tool. Learn more about Pagecloud
Nextiva
Nextiva is a Connected Communications company that helps businesses grow faster. It lets people work smarter using its business VoIP phone service, video conferencing, text messaging, and CRM software. Nextiva combines a complete unified communications system with a robust built-in CRM, which is why it is our choice as the best business phone system for CRM integration. Learn more about Nextiva
Teamwork
Teamwork is a work and project management tool that helps in-house & remote teams improve collaboration, visibility, and accountability. Learn more about Teamwork
Trainual
Trainual provides the easiest way to document every role, responsibility, policy, and process in your business. Start organizing how you do what you do. Learn more about Trainual
Visme
Visme is a web-based data visualization tool that helps individuals and teams to translate data into engaging content in the form of presentations and infographics. Visme's solution is used globally by various professionals including online marketers, writers, bloggers, educators, executives, and communicators. Learn more about Visme
Gorgias
The number one ecommerce helpdesk, providing flawless customer service for e-commerce stores. Gorgias is a customer support helpdesk specially designed for online stores. Learn more about Gorgias
Sembly
The smartest AI meeting assistant that helps easily review & share meeting takeaways, meeting records, and transcriptions. Sembly is a SaaS platform that enables managers and teams to record, transcribe, and generates smart meeting summaries with meeting minutes. Works with Zoom, Google Meet, MS Teams, and Webex. Learn more about Sembly
---
---
---
Don't Miss Free Webinar: Identity Resolution: It's Time to Get Serious About Your Post-Cookie Strategy
Date: March 30, 2023
Time: 2pm ET / 11am PT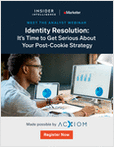 Marketers and publishers want better audience targeting and measurement, but they must be patient. Grappling with the changes to the privacy landscape, taking up ad formats powered by first-party data, and rolling with the wobbly economy will be a gradual process. The key will be lots of experimentation.
In this Meet the Analyst Webinar, our principal analyst Paul Verna will walk you through the latest data and projections to help you act on your plans and get ahead of the cookie-free future.
You'll also get answers to these questions and more:
How much is spent in the US on identity resolution?
How will data clean rooms play into ID matching?
Will IP addresses meet the same fate as third-party cookies and mobile device IDs?
Paul will also be joined by Kyle Hollaway, senior vice president and head of the global identity at Acxiom. Don't miss it!
---